With this page I will discuss how to reset the Cisco DDR2200 router back to it's original factory defaults. This is not the same thing as a reboot. To reboot is to cycle the power to the Cisco DDR2200 router. To reset is to take every single setting and revert them all back to factory defaults.
Warning: This reset is a serious step in problem solving. It can cause even more problems for you if you are not aware of what settings get changed. Make a list of the settings you know that will be changed. We have started the list for you:
the router's main username and password
the Internet name and password
if you use a DSL router you need to re-enter the ISP username and password. This info. can be obtained by calling your Internet Service Provider.
List every other setting that has been changed. This could be port forwards, or IP address changes.
Other Cisco DDR2200 Guides
This is the reset router guide for the Cisco DDR2200.We also have the following guides for the same router:
Reset the Cisco DDR2200
Once you have decided to reset the Cisco DDR2200 router you need to know where the reset button is located. Normally a router's reset button is located on the side or back panel of the device. Here we've circled it's location for you in the image below.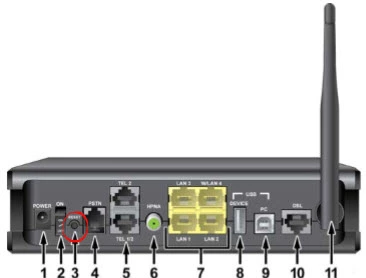 Take the end of a paperclip or pin and press down the reset button for a total of 10 seconds. If you don't hold this button down for long enough you will only be rebooting the router instead or reverting it's settings to factory defaults.
Remember this reset is erasing all of your personal data on this router. To avoid this you really should try other troubleshooting methods first.
Login to the Cisco DDR2200
After the reset process is completely finished you need to login to the device using the default IP address, username, and password. This information is in your user manual. We also have this information in our Cisco DDR2200 Login Guide.
Change Your Password
Once you have logged into the Cisco DDR2200 you should change the password you just used. By design the default passwords and usernames are easy to guess and should therefore be changed. If you need assistance with this just click on the link titled Choosing a Strong Password. It's full of ideas and tips for creating a strong password that is memorable.
Tip: Don't lose this password. If this router is in your home it's okay to write the new password down on a post-it note and attach it to the bottom of the router for next time.
Setup WiFi on the Cisco DDR2200
Finally let's take a look at the wireless setting. These have been reset as well and need your attention. The Internet network name or SSID is default again and in need of a change. The security method (depending on the age of your router) may have been changed. We recommend using the security type of WPA2. Lastly make sure you have a strong Internet password in place. We have a guide encompassing all of this titled How to Setup WiFi on the Cisco DDR2200.
Cisco DDR2200 Help
Be sure to check out our other Cisco DDR2200 info that you might be interested in.
This is the reset router guide for the Cisco DDR2200.We also have the following guides for the same router: