On this page we show you how to reset the Dlink DAP-1360 router back to it's original factory defaults. This is not the same thing as a reboot. When you reboot a router you are simply cycling the power to the device. A reset is taking all the settings and returning them to factory defaults.
Warning: Resetting this router can cause problems for you if you don't completely understand what a reset will do. Please consider the following before continuing:
This reset causes your router's setup username and password to be erased and it is restored to factory values.
The factory reset wipes the Internet name and password you created and reverts it back to factory settings.
If this is a DSL router your ISP username and password are erased. To continue using the Internet you need to re-enter these values. Call your Internet Service Provider for more details.
Have you ever changed anything else on the Dlink DAP-1360 router? If so, write these down so you can set them up again after the reset process is complete.
Other Dlink DAP-1360 Guides
This is the reset router guide for the Dlink DAP-1360.We also have the following guides for the same router:
Reset the Dlink DAP-1360
After you have read these warnings you need to find the reset button. This tiny recessed hole on the outside of your router is designed to be difficult to press. It also may be hard to find because of it's small size. We have circled it's location for you in the image below: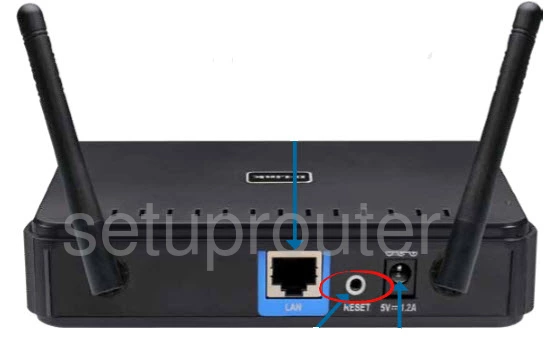 Take an unfolded paperclip or other similar object and press down on this reset button for about 10 seconds. This initiates the reset process. If you don't hold this button down for the entire amount of time you may end up only rebooting the router instead of resetting it like you wanted.
Login to the Dlink DAP-1360
Now you'll need to log into the Dlink DAP-1360 router. Do this by using the default username and password. Don't know what these are? Not to worry, we've got them for you. Visit our Login Guide to find them.
Tip: If the defaults aren't working it may be because you didn't hold the reset button down for long enough.
Change Your Password
After logging in we suggest changing the default password. You can change it to whatever you like, however bear in mind that a strong password consists of 14-20 characters and includes no personal information. For more help take a look through our Choosing a Strong Password Guide.
Tip: Avoid losing your password by writing it down on a note and attaching it to the underside of your router.
Setup WiFi on the Dlink DAP-1360
Now is a good time to check the Dlink DAP-1360 router's WiFi settings as well. Make sure you update the SSID, the password, and the security method. We recommend using WPA2 with a strong password. For more details check out the How to Setup WiFi on the Dlink DAP-1360 guide.
Dlink DAP-1360 Help
Be sure to check out our other Dlink DAP-1360 info that you might be interested in.
This is the reset router guide for the Dlink DAP-1360.We also have the following guides for the same router: