On this page we will show you how to reset the Dlink DSL-2870B router back to it's original factory defaults. This is not a reboot. When you reboot a router you are only cycling the power to the device. When you reset a router you take every setting and return them all back to factory defaults.
Warning: Resetting a router is a big step and should not be taken lightly. We highly recommend making a list of all the settings you know will be changed. The following should be on your list:
The main username and password for the router's interface.
The name and password for your Internet connection.
If this is an DSL router you need to re-enter the ISP (Internet Service Provider) username and password. You need to call your local ISP for the details.
Have you ever changed anything else on the Dlink DSL-2870B router? Have you ever forwarded a port? Have you changed an IP address for any reason? These are all erased and need to be reconfigured.
Other Dlink DSL-2870B Guides
This is the reset router guide for the Dlink DSL-2870B. We also have the following guides for the same router:
Reset the Dlink DSL-2870B
Once you have decided to reset the Dlink DSL-2870B router you need to find that tiny little reset button/pinhole. For this particular model you can find it on the back panel. Take a look at the picture below for a better idea of it's location.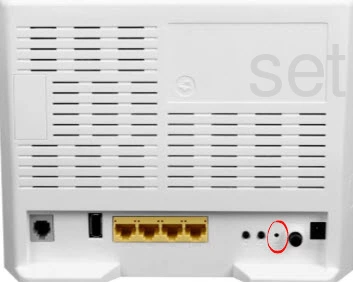 Take a bent paperclip and press down on the reset button for about 15 seconds to start the reset process. Less than that and you run the risk of simply rebooting the device rather than resetting it like you planned.
Don't forget that this reset erases every single setting you have ever changed on this device. We strongly recommend that you try other ways of fixing your problem before you continue with a reset.
Login to the Dlink DSL-2870B
Now that you've reset your Dlink DSL-2870B router you'll need to log into it. This is done by using the factory default username and password provided for you in our Login Guide.
Tip: Defaults not logging you in? Try holding the reset button down for longer.
Change Your Password
Once you've logged into your router we suggest setting a new password for it. This can be anything you want, however keep in mind that will only protect your router settings, not your wireless network. Still, setting a strong password is always a wise decision. For help in doing so check out our Choosing a Strong Password Guide.
Tip: Keep yourself from losing your new password by writing it on a note and taping it to the bottom of your router.
Setup WiFi on the Dlink DSL-2870B
After you are finished with the above steps you need to check on your WiFi settings. We have a guide with easy to follow directions for this topic. Check it out here on this page: How to Setup WiFi on the Dlink DSL-2870B.
Dlink DSL-2870B Help
Be sure to check out our other Dlink DSL-2870B info that you might be interested in.
This is the reset router guide for the Dlink DSL-2870B. We also have the following guides for the same router: