Ubiquiti NanoStation5 System
This is the System screen from the Ubiquiti NanoStation5 router.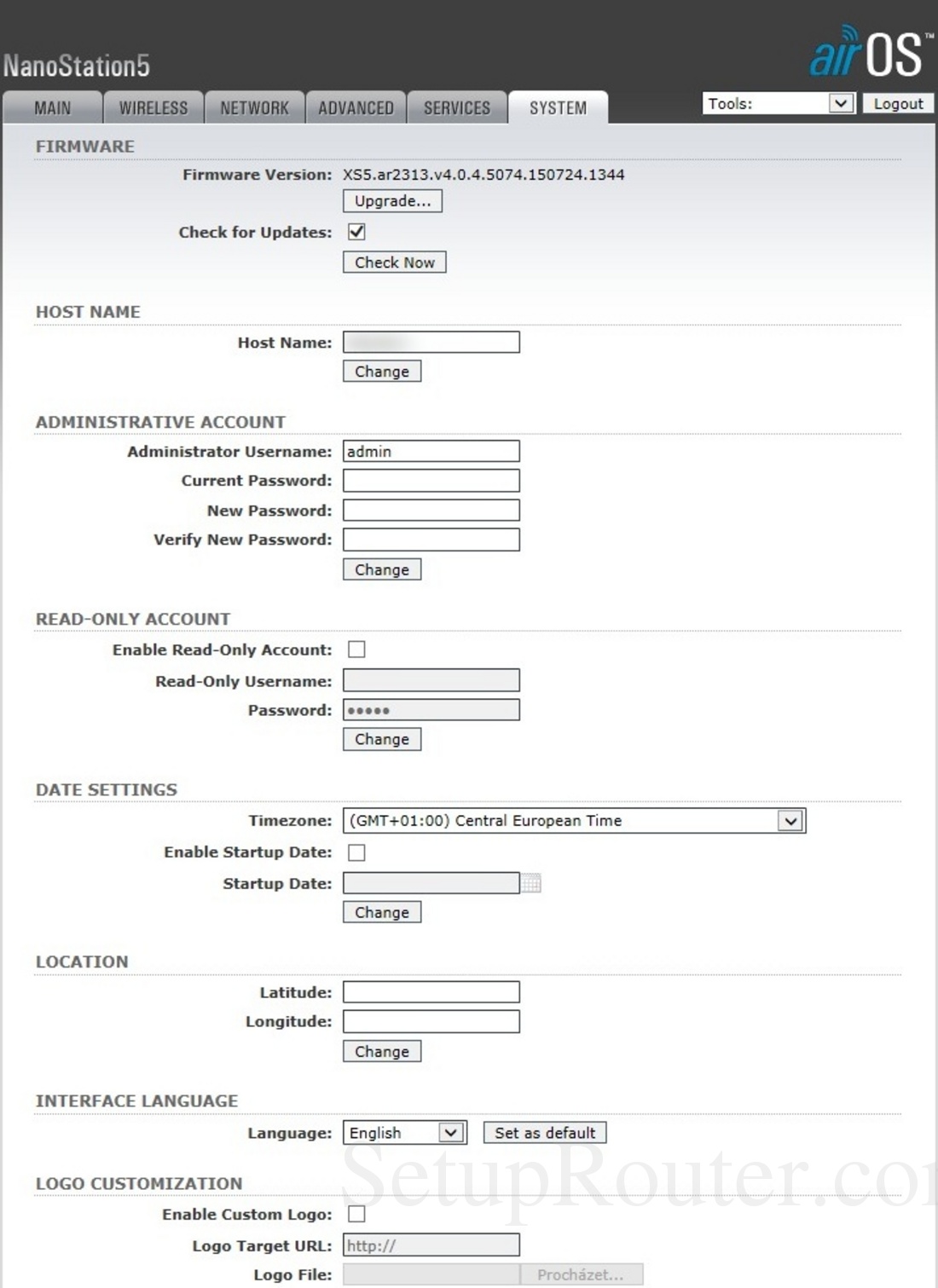 Keywords on The Ubiquiti NanoStation5 System Screenshot
The following words were detected on the Ubiquiti NanoStation5 System screenshot.
: [NanoStation5] - System Tools: Align Antenna... Site Survey... Ping... Traceroute... Speed Test... Firmware Firmware Version: XS5.ar2313.v4.0.4.5074.150724.1344 Check for Updates: Host Name Host Name: Administrative Account Administrator Username: Current Password: New Password: Verify New Password: Read-Only Account Enable Read-Only Account: Read-Only Username: Password: Date Settings Timezone: (GMT-12:00) International Date Line West (GMT-11:00) Midway Island, Samoa (GMT-10:00) Hawaii (GMT-09:00) Alaska (GMT-08:00) Pacific Standard Time (GMT-07:00) Mountain Standard Time (GMT-06:00) Central Standard Time (GMT-05:00) Eastern Standard Time (GMT-04:30) Caracas (GMT-04:00) Eastern Caribbean Time (GMT-03:30) Newfoundland (GMT-03:00) Greenland, Buenos Aires (GMT-02:00) Mid-Atlantic (GMT-01:00) Cape Verde Time (GMT) Western Europe Time (GMT+01:00) Central European Time (GMT+02:00) Eastern European Time (GMT+03:00) Baghdad, Riyadh, Moscow, St. Petersburg (GMT+03:30) Tehran (GMT+04:00) Abu Dhabi, Muscat, Baku, Tbilisi (GMT+04:30) Kabul (GMT+05:00) Ekaterinburg, Islamabad, Karachi, Tashkent (GMT+05:30) Bombay, Calcutta, Madras, New Delhi (GMT+05:45) Kathmandu (GMT+06:00) Almaty, Dhaka, Colombo (GMT+07:00) Bangkok, Hanoi, Jakarta (GMT+08:00) Beijing, Perth, Singapore, Hong Kong (GMT+09:00) Tokyo, Seoul, Osaka, Sapporo, Yakutsk (GMT+09:30) Adelaide, Darwin (GMT+10:00) Eastern Australia, Guam, Vladivostok (GMT+11:00) Magadan, Solomon Islands, New Caledonia (GMT+12:00) Auckland, Wellington, Fiji, Kamchatka Enable Startup Date: Startup Date: Location Latitude: Longitude: Interface Language Language: English Česky Français Polski Português Español 中文(简体) Logo Customization Enable Custom Logo: Logo Target URL: Logo File: Configuration Management Backup Configuration: Upload Configuration: Device Maintenance © Copyright 2006-2015 Ubiquiti Networks, Inc.