Ubiquiti NanoStation5 Wireless
This is the Wireless screen from the Ubiquiti NanoStation5 router.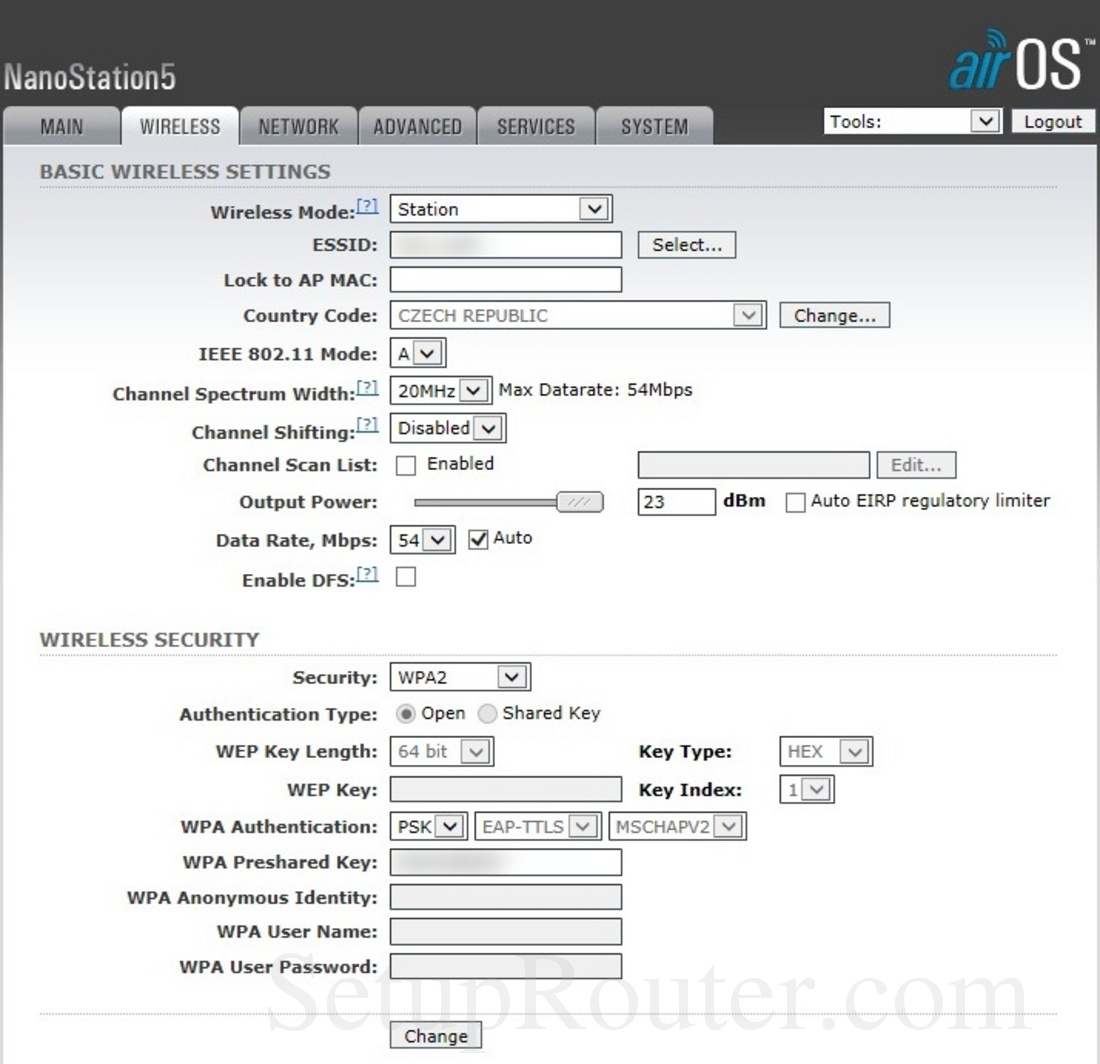 Keywords on The Ubiquiti NanoStation5 Wireless Screenshot
The following words were detected on the Ubiquiti NanoStation5 Wireless screenshot.
: [NanoStation5] - Setup Link Tools: Align Antenna... Site Survey... Ping... Traceroute... Speed Test... Basic Wireless Settings Wireless Mode: [?] Station Station WDS ESSID: Lock to AP MAC: Country Code: ARGENTINA ARMENIA AUSTRALIA AUSTRIA AZERBAIJAN BAHRAIN BELGIUM BELIZE BOLVIA BOSNIA HERZEGOWINA BRAZIL BRUNEI DARUSSALAM BULGARIA CANADA CHILE CHINA COLOMBIA CROATIA CYPRUS CZECH REPUBLIC DENMARK DOMINICAN REPUBLIC EGYPT ESTONIA FINLAND FRANCE FRANCE_RES GEORGIA GERMANY GREECE GUATEMALA HONG KONG HUNGARY ICELAND INDIA INDONESIA IRAQ IRELAND ITALY JAPAN JORDAN KOREA REPUBLIC LATVIA LIECHTENSTEIN LITHUANIA LUXEMBOURG MACAU MALAYSIA MALTA MEXICO MONACO NETHERLANDS NEW ZEALAND NORWAY OMAN PANAMA PERU PHILIPPINES POLAND PORTUGAL PUERTO RICO SAUDI ARABIA SINGAPORE SLOVAK REPUBLIC SLOVENIA SOUTH AFRICA SPAIN SRI LANKA SWEDEN SWITZERLAND TAIWAN TRINIDAD & TOBAGO TUNISIA TURKEY UNITED KINGDOM UNITED STATES URUGUAY UZBEKISTAN VENEZUELA COMPLIANCE TEST IEEE 802.11 Mode: Channel Spectrum Width: [?] Max Datarate: Mbps Channel Shifting: [?] Disabled Enabled Channel Scan List: Enabled Antenna: Horizontal - 14 dBi Vertical - 14 dBi Adaptive - 14 dBi External Output Power: dBm Auto EIRP regulatory limiter Data Rate, Mbps: Auto Enable DFS: [?] Wireless Security Security: none WEP WPA WPA-TKIP WPA-AES WPA2 WPA2-TKIP WPA2-AES Authentication Type: Open Shared Key WEP Key Length: 64 bit 128 bit 152 bit Key Type: HEX ASCII WEP Key: Key Index: 1 2 3 4 WPA Authentication: PSK EAP EAP-TTLS EAP-PEAP MSCHAPV2 WPA Preshared Key: WPA Anonymous Identity: WPA User Name: WPA User Password: © Copyright 2006-2015 Ubiquiti Networks, Inc.