Here we will show you how to reset your 3Com 3CRWER200-75 router back to it's original factory defaults. This is not the same as rebooting the router which is only turning it off and back on again to cycle the power.
Warning: Resetting your router should not be done unless you have tried other options first of solving your problem. Some of the things that need to considered are as follows:
the router username and password are reset to factory settings
the wireless SSID and password revert to how they were from the factory
any ISP username and password needed will be erased requiring you to re-enter them
all port forwarding you have done or firewall changes you have made will be gone.
Other 3com 3CRWER200-75 Guides
This is the reset router guide for the 3com 3CRWER200-75. We also have the following guides for the same router:
Reset the 3com 3CRWER200-75
While your router is still on flip it over so you are looking at the back of it.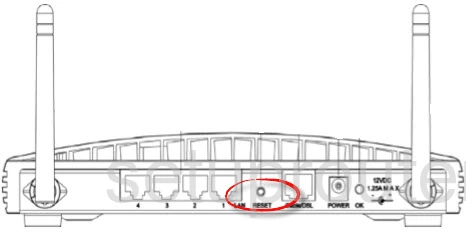 Now take the end of a paperclip and press and hold the RESET button for over 5 seconds.
This completely erases all your settings so only do this after you have tried other ways of solving the problem.
Login to the 3com 3CRWER200-75
After you have reset your 3Com 3CRWER200-75 router you need to login using the default username and password. To do this follow our Login Guide located here.
Change Your Password
Now is a great opportunity to change your router's password. If you need help creating a new password use our Choosing a Strong Password guide for ideas on how to create strong and memorable passwords.
Tip: Make sure to write this new password down on a sticky-note and attach it to the bottom of your router for future reference.
Setup WiFi on the 3Com 3CRWER200-75
The last thing that needs your attention is the security of your router. Resetting it caused it to revert back to factory defaults and sometimes this means no security at all. Use this step-by-step guide titled How to Setup WiFi on the 3Com 3CRWER200-75 to ensure you have a strong security setup for your router.
3com 3CRWER200-75 Help
Be sure to check out our other 3com 3CRWER200-75 info that you might be interested in.
This is the reset router guide for the 3com 3CRWER200-75. We also have the following guides for the same router: