In this guide I will cover how to reset the Alcatel OneTouch Y800I EE router to factory defaults. This is not the same thing as rebooting a router. Rebooting a router is simply cycling the power by turning it off and back on again. Resetting a router is almost as easy to accomplish but has more serious consequences.
Warning: Resetting a router shouldn't be done until other troubleshooting methods have been tried. There are consequences to a factory reset. Please consider the following before continuing:
The router's main username and password are reset.
The Wireless username and password are reset as well.
If you connect to the Internet using a DSL connection, you need to re-enter the ISP, Internet Service Provider, username and password. For more details on this you need to call your ISP.
Any configurations you have made on this router will be erased. This could include anything from a IP address change to a port forward you created for your favorite game.
Other Alcatel OneTouch Y800I EE Guides
This is the reset router guide for the Alcatel OneTouch Y800I EE.We also have the following guides for the same router:
Reset the Alcatel OneTouch Y800I EE
First of all, be sure to keep your Alcatel OneTouch Y800I EE router on during the entire reset process. Turning the device off or unplugging it during the reset could cause permanent damage to the router.
Now go ahead and locate the tiny reset button on your router. In this case, you need to remove the back cover first. We have circled the reset button in red in the image below.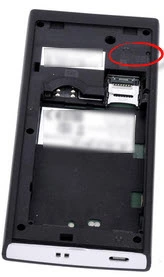 Next use an unwound paperclip or tip of a pencil to press and hold the reset button for about 10 seconds.
Please remember that this will erase everything you have ever done to your router. Make sure to exhaust all other troubleshooting options first.
Login to the Alcatel OneTouch Y800I EE
Once you have finished the reset process you need to login using the factory default username and password. These can usually be found in the user manual. We have located these for you and included them in our Alcatel OneTouch Y800I EE Login Guide.
Change Your Password
After you have successfully logged into the Alcatel OneTouch Y800I EE you need to change that password to something new. It can be difficult to come up with a new password so we have created a guide for you full of helpful hints. Go ahead and check out our Choosing a Strong Password guide.
Tip: Write this new password down on a piece of paper and stick it to the bottom of the router for next time you need to use it.
Setup WiFi on the Alcatel OneTouch Y800I EE
The last thing we want to mention is the WiFi security. Don't forget that this is reset as well. Some router manufacturers like to leave the router security open as the default. This means it is open to anyone who wants to use it regardless of whether they have your permission or not. It's a really good idea to set your security to WPA2-PSK. To learn how to do this check out our How to Setup WiFi on the Alcatel OneTouch Y800I EE guide.
Alcatel OneTouch Y800I EE Help
Be sure to check out our other Alcatel OneTouch Y800I EE info that you might be interested in.
This is the reset router guide for the Alcatel OneTouch Y800I EE.We also have the following guides for the same router: