This guide goes over how to reset the Allied-Telesis AT-iMG624A router to factory defaults. This isn't the same thing as rebooting the router which simply means to cycle the power by turning it off and back on again. Resetting the router requires more forethought as it will erase everything you have done to the router.
Warning: Resetting this router should not be taken lightly. Below is a partial list of what changes when a reset is done.
The router's main username and password are reset.
The WiFi SSID/username and password are reverted to defaults.
If you use a DSL connection you will need to re-enter the ISP username and password. Call your ISP for this information.
All configurations such as port forwards or IP address changes are erased and need to be re-entered.
Other Allied-Telesis AT-iMG624A Guides
This is the reset router guide for the Allied-Telesis AT-iMG624A. We also have the following guides for the same router:
Reset the Allied-Telesis AT-iMG624A
With the router plugged in and turned on, take a look at the back panel.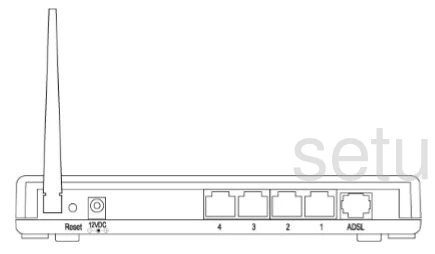 Locate the tiny reset button. Then using a unfolded paperclip or pin press and hold the reset button for around 10 seconds. This usually begins the reset process which can take a minute or two to complete.
Don't forget that all of your personal changes you've made to your router will disappear. Resetting the router should only be done after you have tried other options first.
Login to the Allied-Telesis AT-iMG624A
Now, after the reset process is complete you need to login to the Allied-Telesis AT-iMG624A router using it's default username and password. We have this information for you in our Allied-Telesis AT-iMG624A Login Guide.
Change Your Password
Next it is a good idea to change your default password to something you create. There are many good passwords you can use. If you need help thinking of a new password, check out our Choosing a Strong Password guide for many helpful tips.
Tip: After creating a new router password, write it down on a sticky note and paste it to the bottom of the router for next time you need to login.
Allied-Telesis AT-iMG624A Help
Be sure to check out our other Allied-Telesis AT-iMG624A info that you might be interested in.
This is the reset router guide for the Allied-Telesis AT-iMG624A. We also have the following guides for the same router: