In this guide I will cover how to reset your Arcor EasyBox-A300 router. It needs to be noted that a reset is different than a reboot. Rebooting a device is cycling the power by turning it off and back on again. Resetting is almost as easy but has more drastic consequences.
Warning: Resetting this Arcor EasyBox-A300 router will erase everything you have done to it in the past. Please consider the following before continuing.
Your router's main username and password are reset.
The WiFi username/SSID and password are reset as well.
If you use a DSL line into your router for Internet the ISP (Internet Service Provider) username and password need to be re-entered. Call your ISP for these details.
Any and all configurations you have made will be erased. This could include firewall settings, port forwards, or even IP address changes.
Other Arcor EasyBox-A300 Guides
This is the reset router guide for the Arcor EasyBox-A300. We also have the following guides for the same router:
Reset the Arcor EasyBox-A300
First of all you need to be sure your router is plugged in and switched on. If your Arcor EasyBox-A300 router is unplugged or turned off during the reset process it could cause permanent damage.
Next, take a look at the back panel of the router and locate the small reset button. We have circled it's location in the image below.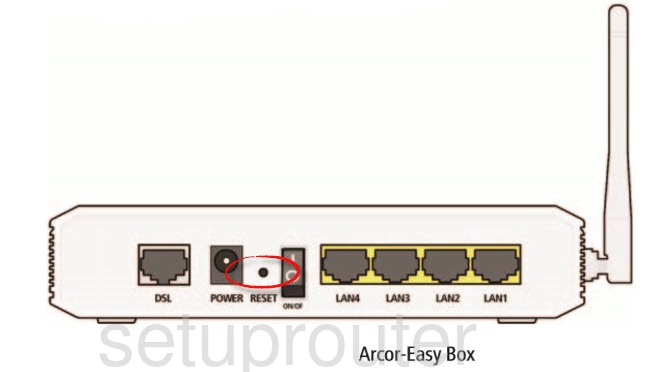 Using a small object such as the tip of a pencil or pin press and hold the reset button for about 10 seconds.
It's important to remember that this is going to erase everything you have done to your router to personalize it. A reset should be done only after you have exhausted all other troubleshooting methods.
Login to the Arcor EasyBox-A300
Once this is done go ahead and login using the default username and password. We have the Arcor EasyBox-A300 default IP address, username, and password included in the Arcor EasyBox-A300 Login Guide.
Change Your Password
After logging in to the Arcor EasyBox-A300 router you should change the password. It can be difficult coming up with a new password. The Choosing a Strong Password guide is available for you if you need it. It is full of helpful ideas and ways to make it memorable as well as strong.
Tip: Write down this new password on a slip of paper and stick it to the bottom of the router for next time you need to login to your router's graphical user interface.
Setup WiFi on the Arcor EasyBox-A300
The last setting we are addressing in this guide is the WiFi security. Some router companies like to leave the security open as default. This means there is no security. We strongly recommend changing this to WPA2-PSK. We have instructions on how to do this in our How to Setup WiFi on the Arcor EasyBox-A300 guide.
Arcor EasyBox-A300 Help
Be sure to check out our other Arcor EasyBox-A300 info that you might be interested in.
This is the reset router guide for the Arcor EasyBox-A300. We also have the following guides for the same router: