Arris SBG6900-AC WirelessWMMQualityofService
This is the WirelessWMMQualityofService screen from the Arris SBG6900-AC router.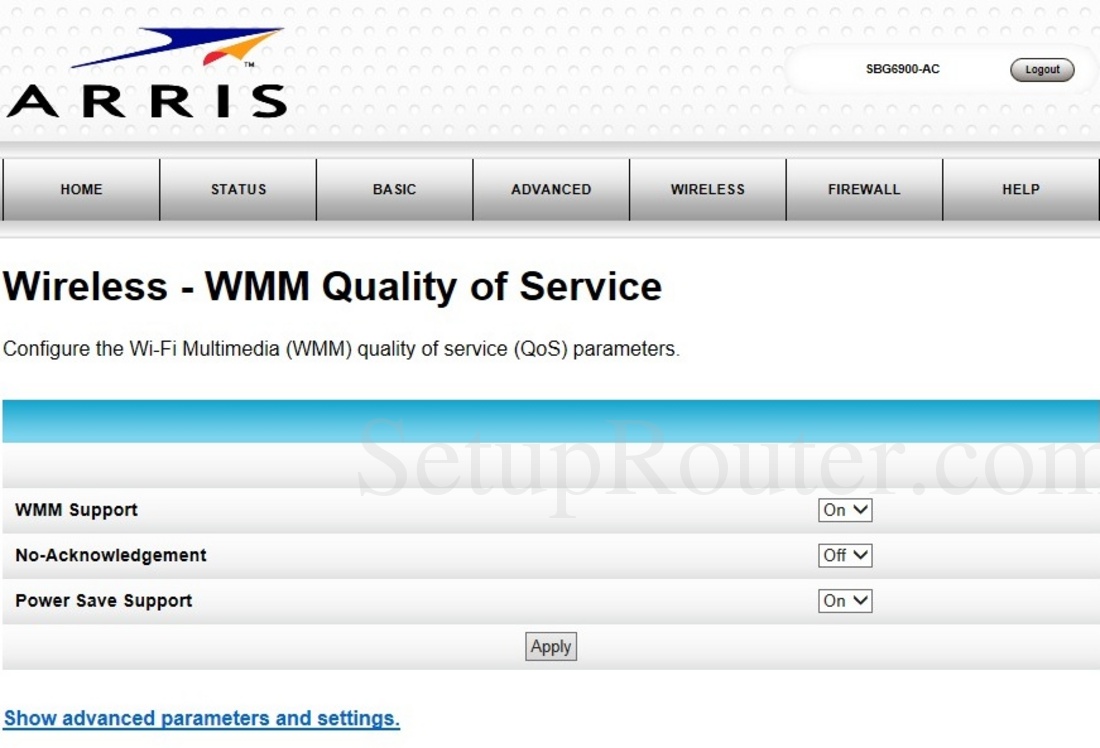 Keywords on The Arris SBG6900-AC WirelessWMMQualityofService Screenshot
The following words were detected on the Arris SBG6900-AC WirelessWMMQualityofService screenshot.
Wireless - WMM Quality of Service --> Confirm Settings Do you want to continue? Logout SBG6900-AC Wireless - WMM Quality of Service Configure the Wi-Fi Multimedia (WMM) quality of service (QoS) parameters. WMM Support On Off No-Acknowledgement On Off Power Save Support On Off VLAN Mode Auto On Off --> Show advanced parameters and settings. EDCA AP Parameters: CWmin CWmax AIFSN TXOP(b) Limit (usec) TXOP(a/g) Limit (usec) Admission Control --> Discard Oldest First AC_BE On Off AC_BK On Off AC_VI On Off AC_VO On Off EDCA STA Parameters: AC_BE AC_BK AC_VI AC_VO EDCA TXOP Parameters: Sr1 Sfbl Lrl Lfbl MaxRate AC_BE AC_BK AC_VI AC_VO ©2015 ARRIS Group, Inc. ALL RIGHTS RESERVED.