In this guide we will show you how to reset the Arris TG862G-CT router. This isn't the same thing as rebooting a router. Rebooting is cycling the power by turning it off and back on again. Resetting a router is different in that is reverts all settings back to how they were from the factory.
Warning: Resetting a router can cause problems if you are unaware of what is changed or erased during the reset process. Please consider the following before continuing.
It will cause the router's main username and password to be reset.
The WiFi information such as SSID and password are reset to factory specs.
If you connect using a DSL you need to re-enter the ISP (Internet Service Provider) username and password. Call your ISP for the details.
All configurations are erased. This could include anything from port forwards to IP address changes.
Other Arris TG862G-CT Guides
This is the reset router guide for the Arris TG862G-CT.We also have the following guides for the same router:
Reset the Arris TG862G-CT
The first step is to ensure the Arris TG862G-CT router is on. Unplugging the router or turning it off during the reset process could cause permanent damage.
Next you need to locate the reset button. Typically it is found on the back of the router. See the image below.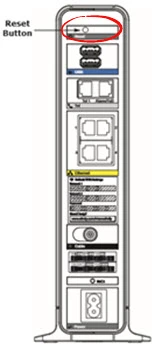 Since the tiny reset button is recessed in the router to avoid accidental reset you need to obtain an unwound paperclip or pin. Press and hold the reset button for about 10 seconds.
Don't forget that this erases all configurations you have ever done to your router. Make sure you have exhausted all other troubleshooting methods before continuing.
Login to the Arris TG862G-CT
After the reset process is complete, you need to login using the default Arris TG862G-CT router password and username. We have found these for you and included them in the Login Guide.
Change Your Password
Once you have logged in to the Arris TG862G-CT you need to change that default password. To create a strong password and why go ahead and check out this Creating a Strong Password guide.
Tip: Go ahead and write this new password down on a piece of paper and tape it to the bottom of the router for future reference.
Setup WiFi on the Arris TG862G-CT
The last setting we recommend you change right after a factory reset is the WiFi security. Some router companies like to leave this open as the default. This means anyone who wants to can use your WiFi. We highly recommend changing this to WPA2-PSK. We have a guide titled How to Setup WiFi on the Arris TG862G-CT if you're interested.
Arris TG862G-CT Help
Be sure to check out our other Arris TG862G-CT info that you might be interested in.
This is the reset router guide for the Arris TG862G-CT.We also have the following guides for the same router: