On this page we show you how to reset the Cisco DDR2201v1 router to factory default settings. This is not the same thing as rebooting the router. A reboot is cycling the power to the device. You turn the router off, wait a bit, then turn it back on. A router reset is going to take all the settings and return them to original factory defaults.
Warning: Resetting this router is a big step and should not be done until you know what settings are changed. You should make a list of all the settings you know that will be changed by the reset. We started the list for you:
The router username and password
The Internet name and password
If you use a DSL router you need to re-enter the ISP username and password. Call your Internet Service Provider for more information.
Have you made any other changes to the Cisco DDR2201v1 router? Have you assigned any IP addresses? Have you forwarded any ports for a favorite game. Write any of these down in this new list.
Other Cisco DDR2201v1 Guides
This is the reset router guide for the Cisco DDR2201v1.We also have the following guides for the same router:
Reset the Cisco DDR2201v1
So, now that you have decided to reset the Cisco DDR2201v1 router you need to know where the reset button is located. On this router it is found on the back panel of the device. See the image below: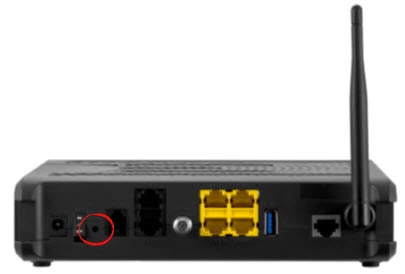 As you can see this button is very small and recessed. Take the tip of a pin or unfolded paperclip to press down on the button for about 10 seconds. This will start the reset process. If you don't hold the reset button down for the entire amount of time required you might just reboot the router instead of resetting it like you wanted.
Please make sure you understand that a factory reset erases every setting you have ever changed. To avoid having to setup your router again to your liking you should consider other troubleshooting methods first.
Login to the Cisco DDR2201v1
After the reset process is complete you must login using the applicable default IP address, username, and password. These can be found a few different places. One of these being on our website. Take a look at our Cisco DDR2201v1 Login Guide.
Change Your Password
After you login to the Cisco DDR2201v1 router you should change the default password you just used. Default passwords are meant to be easy to guess making them awful long term passwords. If you need help coming up with a better password check out our guide on passwords here.
Tip: After creating a new password you need to write it down and keep it somewhere you won't lose it. If this router is in your home how about writing the password down on a sticky note and sticking it to the bottom of the router.
Setup WiFi on the Cisco DDR2201v1
It's quite important that you check on your wireless settings. The SSID or network name needs to personalized again. The security mode may need to be changed if it's not secure enough (WPA2). You need to enter a new Internet password as well. If you need help with any of this, check out our guide titled How to Setup WiFi on the Cisco DDR2201v1.
Cisco DDR2201v1 Help
Be sure to check out our other Cisco DDR2201v1 info that you might be interested in.
This is the reset router guide for the Cisco DDR2201v1.We also have the following guides for the same router: