How to Reset the Dlink DPH-140S
On this page I will be showing you how to correctly reset the Dlink DPH-140S VoIP Phone.
This is not the same thing as a reboot. When you reboot something you are simply restarting it by cycling the power to the device. When you reset something you take all the settings and return them all to factory defaults.
Warning: All settings you have changed are erased during a reset. This is a serious step and should not be taken lightly. Creating a list of settings that will need to be reconfigured is a great idea. Consider the following:
The username and password to access the user interface are erased and reverted back to factory defaults.
Any settings you have changed are erased such as phone settings and the phone book.
Other Dlink DPH-140S Guides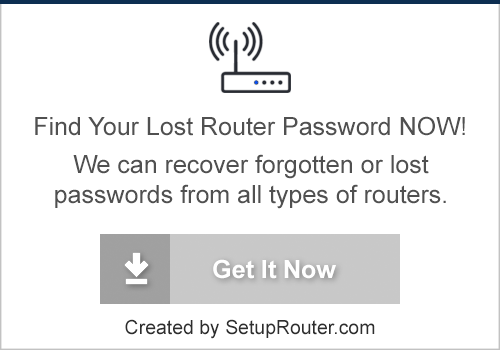 Reset the Dlink DPH-140S
The first step in resetting this Dlink DPH-140S VoIP phone is to access the web interface. Type in the phones IP address in the address bar. If you have never changed it, it should be 192.168.0.1 If you have changed it and don't know what it is, don't panic. Use our free router detector software to help you find it.
Once you have typed in the correct IP address in the bar at the top of the page you should see the page below.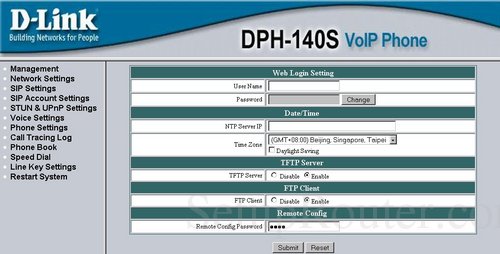 Open up the Management link in the left sidebar.
Click the option of Restore Factory Setting.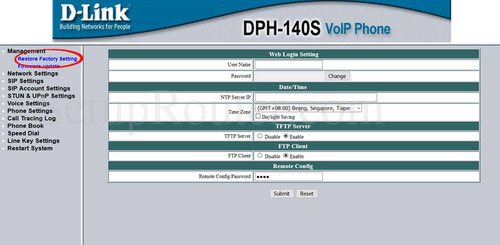 Click Restore in the center of the page.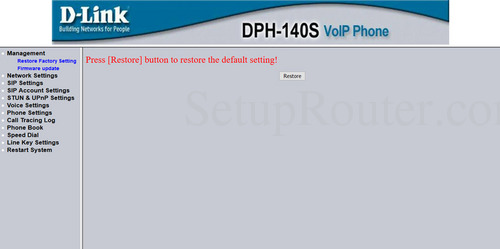 When it asks if you're sure click OK.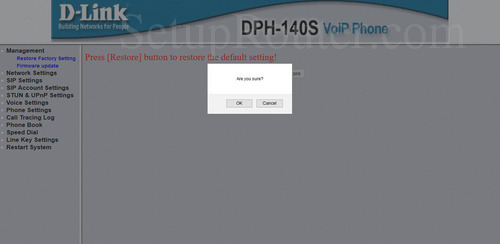 You have now successfully reset the Dlink DPH-140S VoIP phone.
Login to the Dlink DPH-140S
Next you'll need to log into your Dlink DPH-140S VoIP Phone. Do this by using the default username and password. Don't know where to find these? We have them listed and waiting for you in our Login Guide.
Change Your Password
Once you've reset and logged into your router you should set a new password for it. This password can be anything you want it to be, however keep in mind that a strong password consists of no personal information and is 14-20 characters in length. For more help be sure to take a look at our Choosing a Strong Password Guide.
Tip: Afraid of losing your new password? Try writing it on a note and taping it to the bottom of your VoIP Phone.
ReplaceResetSetupWifi
Dlink DPH-140S Help
Be sure to check out our other Dlink DPH-140S info that you might be interested in.