On this page we are showing you how to properly reset the Dlink DSL-2900AL router back to it's original factory defaults. This is not a reboot. When you reboot a router you are only cycling the power to the device. When you reset a router you take every setting and return them all back to factory defaults.
Warning: Resetting a router is a big step and should not be taken lightly. It would be a great idea to make a list of all the settings you know will be changed. We went ahead and started the list for you:
The main username and password for the router's interface.
The name and password for your Internet connection.
If this is an DSL router you need to re-enter the ISP (Internet Service Provider) username and password. You need to call your local ISP for the details.
Have you ever changed anything else on this router? Have you ever forwarded a port or changed an IP address for any reason? These are all erased and need to be reconfigured after the reset is complete.
Other Dlink DSL-2900AL Guides
This is the reset router guide for the Dlink DSL-2900AL. We also have the following guides for the same router:
Reset the Dlink DSL-2900AL
Begin by finding the reset button on the device itself. For the Dlink DSL-2900AL router you can find it on the bottom panel. Take a look at the image below for more of an idea.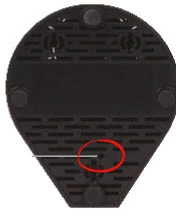 Taking a straight paperclip press and hold down this reset button/pinhole for about 10 seconds. Be careful not to simply press and release this button as it may only reboot the router instead of resetting it.
Please remember a reset like the one you are about to do will erase every single setting you have ever changed on this device. It is a good idea to try other methods of fixing your problem before you resort to a factory reset like this.
Login to the Dlink DSL-2900AL
After you've reset your Dlink DSL-2900AL router you'll need to log into it. This is accomplished by using the factory default username and password. Not sure where to get these? Not to worry. We have them listed for you in our Login Guide.
Tip: If the defaults aren't logging you in try holding the reset button down for longer.
Change Your Password
Once you've logged into your router we recommend setting a new password for it. This can be whatever you like, however keep in mind that a strong password is 14-20 characters in length and includes no personal information. For more help be sure to visit our Choosing a Strong Password Guide.
Tip: Prevent yourself from losing your new password by writing it on a sticky note and attaching it to the bottom of your router.
Setup WiFi on the Dlink DSL-2900AL
Finally you need to reconfigure the WiFi settings so your local network is secure. Our guide on that subject will take you step by step through the process. Check it out here on the page called How to Setup WiFi on the Dlink DSL-2900AL.
Dlink DSL-2900AL Help
Be sure to check out our other Dlink DSL-2900AL info that you might be interested in.
This is the reset router guide for the Dlink DSL-2900AL. We also have the following guides for the same router: