This guide shows you step-by-step how to reset your router to factory defaults. This is different than rebooting which consists of turning your router off and then back on again.
Warning: Resetting your router can cause unexpected problems. Take the following into consideration before you continue:
The router's main username and password will be reset to the original factory defaults.
The WiFi username and password will also be reset to how they were from the factory.
If your ISP requires a username and password this will need to be re-entered before you can access the Internet again.
Any personal changes you have made to your router such as firewalls or port forwards need to be reconfigured.
Other A-Link RoadRunner-84AP Guides
This is the reset router guide for the A-Link RoadRunner-84AP. We also have the following guides for the same router:
Reset the A-Link RoadRunner-84AP
While the router is turned on look at the left side of the router. There should be a small button labeled Reset.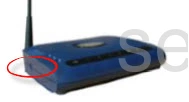 Using the end of a paperclip or pencil press and hold the Reset button for about 10 seconds.
Remember this erases all the changes you have made to your A-Link RoadRunner-84AP. Reset your router only after you have tried other troubleshooting options.
Login to the A-Link RoadRunner-84AP
After resetting the A-Link RoadRunner-84AP you will need to login using the default username and password. This A-Link RoadRunner-84AP Login Guide contains step-by-step instructions for you.
Change Your Password
Once you have finished logging into the A-Link RoadRunner-84AP router it's a good idea to change your router's password as soon as possible. If you need help creating a strong and memorable password maybe this Password Guide can help.
Tip: Write this new password down on a sticky-note and attach it to the bottom of your router so you don't lose it.
Setup WiFi on the A-Link RoadRunner-84AP
You also need to setup the wireless section of your router to avoid risk of someone using your Internet without permission. To create a strong security system for your network follow this How to Setup WiFi on the A-Link RoadRunner-84AP.
A-Link RoadRunner-84AP Help
Be sure to check out our other A-Link RoadRunner-84AP info that you might be interested in.
This is the reset router guide for the A-Link RoadRunner-84AP. We also have the following guides for the same router: