In this guide I will show you how to reset your router to factory defaults. This is not the same thing as rebooting the router. Rebooting is cycling the power to the device by turning it off and back on again. Resetting the router will erase everything you have ever changed in the interface section of the Alvarion WIXFBR-103X187 router.
Warning: Resetting your router should only be done if you have already exhausted your other troubleshooting options. Resetting your router can create more problems if you don't know what to expect. Consider the following:
The router's username and password are reset
The Wifi username and password are reset to factory defaults.
If you happen to use a DSL connection you will need to re-enter the ISP username and password. If you don't know this information call your ISP.
All configurations you have ever made will be erased. This can include port forwards, and even IP address changes.
Other Alvarion WIXFBR-103X187 Guides
This is the reset router guide for the Alvarion WIXFBR-103X187.We also have the following guides for the same router:
Reset the Alvarion WIXFBR-103X187
The first step is to be sure your router is on. Don't unplug or turn off your router during the reset process. Doing so could cause permanent damage.
Now let's take a look at the back panel. Locate the small reset button. (Circled in red in the picture below.)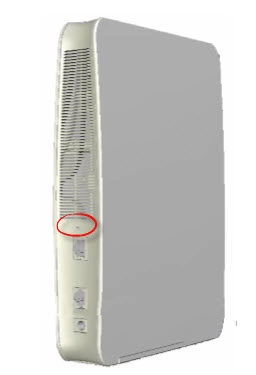 Using a pin or unfolded paperclip press and hold the reset button for about 10 seconds.
Please keep in mind that this is going to erase everything you have done to your router to personalize it.
Login to the Alvarion WIXFBR-103X187
After you have finished resetting the Alvarion WIXFBR-103X187 router you need to login to it using the correct default username and password. We have these gathered for you in our Alvarion WIXFBR-103X187 Login Guide.
Change Your Password
After you have finished logging into the Alvarion WIXFBR-103X187 router you need to change the default password right away. This can be anything you like but we recommend making it strong. If you have trouble in this area check out our Choosing a Strong Password guide for helpful tips.
Setup WiFi on the Alvarion WIXFBR-103X187
The last setting you need to change is the WiFi security. There are some router manufacturers that like to leave the security open as default this means anyone can use your WiFi if they are in range whether you have given your permission or not. Please change your WiFi security to WPA2-PSK for the most secure network. If you need further help with this check out our How to Setup WiFi on the Alvarion WIXFBR-103X187 guide.
Alvarion WIXFBR-103X187 Help
Be sure to check out our other Alvarion WIXFBR-103X187 info that you might be interested in.
This is the reset router guide for the Alvarion WIXFBR-103X187.We also have the following guides for the same router: