This guide covers how to reset the Aztech DSL1015EN-L router back to factory settings. It's important that you know this is not the same thing as a reboot. A reboot is a cycle in the power to the device. To manually reboot your router you need to unplug the power source for about 30 seconds then plug it back in. This solves some minor behavioral problems your router might have. To reset a router means to take all the settings and erase them. Then all settings are returned to how they were from the factory.
Warning: This will cause additional problems for you if you are not expecting things to be different when you enter the router interface. Please consider the following:
The router interface username and password are returned to factory defaults.
The Internet name and password are returned to factory values.
If you use a DSL router you need to re-enter the ISP username and password. To find out what these are you need to call your local Internet Service Provider.
If you have ever changed anything else on this router, it will be erased. Make a note of any changes you have made so you can reconfigure them after the reset process is complete.
Other Aztech DSL1015EN-L Guides
This is the reset router guide for the Aztech DSL1015EN-L.We also have the following guides for the same router:
Reset the Aztech DSL1015EN-L
After you have decided you really want to reset this router, you need to know where the reset button is. Usually it is quite easy but in some cases it is hidden very well. This router is one of the easier ones, take a look at the back panel of the Aztech DSL1015EN-L router. We have circled it's location for you in the image below.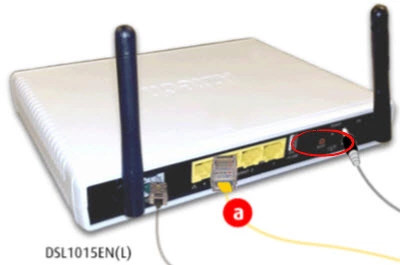 This small button is indented in the back of the router to avoid accidental resets. Take an unwound paperclip or pin to press and hold the reset button down for about 10 seconds to start the reset process.
Important: If you don't hold this button down for long enough you will end up only rebooting the router instead of resetting it like you wanted.
Please remember this erases every setting you have ever changed on the Aztech DSL1015EN-L router. If you want to avoid re-configuring the router you should try other troubleshooting methods first.
Login to the Aztech DSL1015EN-L
When the reset process is finished you should login to the Aztech DSL1015EN-L using the default username and password. These can be found in our Login Guide for the Aztech DSL1015EN-L router.
Change Your Password
It's now a very good idea to change the default password you just used. This password is used to restrict access to your router interface. If you need further help with this part check out our guide titled Choosing a Strong Password.
Tip: To avoid losing this information you can write it down on a post it note and then stick it to the bottom of the router for future reference.
Setup WiFi on the Aztech DSL1015EN-L
Finally let's look at the wireless section of the Aztech DSL1015EN-L router. Your SSID, Internet password, and security method have been reset to factory settings. Make sure to update these properly. We have a guide on how to create a very strong network titled How to Setup WiFi on the Aztech DSL1015EN-L.
Aztech DSL1015EN-L Help
Be sure to check out our other Aztech DSL1015EN-L info that you might be interested in.
This is the reset router guide for the Aztech DSL1015EN-L.We also have the following guides for the same router: