How to Reset the Dlink DP-311P
This page shows you how to properly reset the Dlink DP-311P print server back to the original factory defaults. This is not the same thing as a reboot. When you reboot a device you cycle the power to the device. When you reset a device you take all the settings and return every single one of them back to factory defaults.
Warning: Be careful! Every setting you have ever changed on this device is erased. A complete reconfiguration is required after the reset is complete.
Other Dlink DP-311P Guides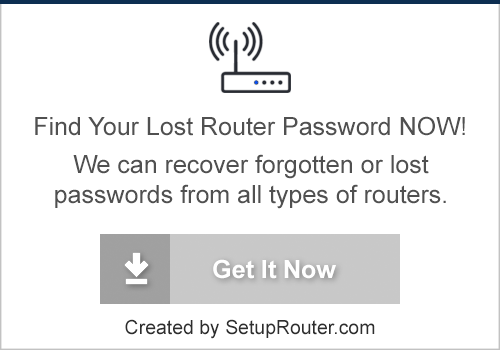 Reset the Dlink DP-311P
This print server doesn't have a physical reset button on the outside of the device. If you need to reset it you need to do so from inside the print server's interface. To gain access to the interface type the IP address of the print server into the address bar at the top of the page. You can find the default IP address here.
If the default IP address did not work you probably changed it at some point in the past. Use our free router detector software to find out what it is.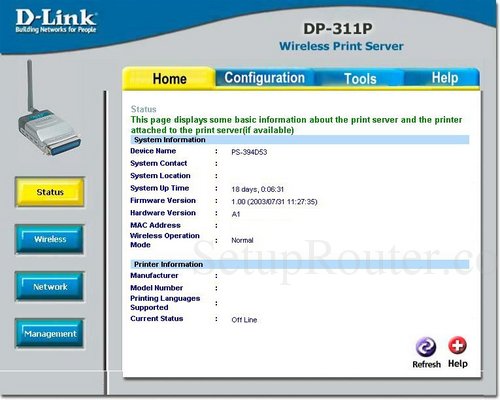 Once you have logged into the Dlink DP-311P you need to click the link at the top of the page labeled Tools. Then in the left sidebar click Factory Defaults.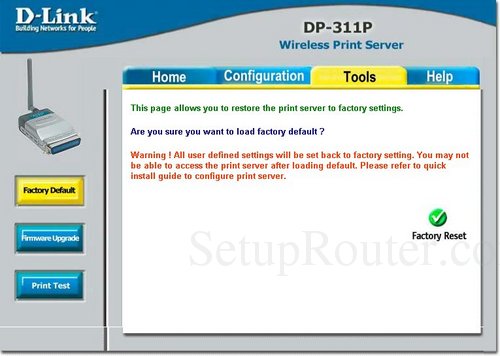 On this new page click the green button titled Factory Reset.
Remember a reset like this erases all previously configured settings.
Login to the Dlink DP-311P
Following that you'll need to log into your Dlink DP-311P router. This is accomplished by using the factory default IP address provided to you in our Login Guide.
Change Your Password
There is no need to create a new password to protect this print server as it doesn't have a password protected interface.
Once you are logged in you need to reconfigure the device back to how you want it. Take a look at some of our other guides for help. They are located at the top and bottom of this page.
ReplaceResetSetupWifi
Dlink DP-311P Help
Be sure to check out our other Dlink DP-311P info that you might be interested in.