On this page I will show you how to reset the Dlink DWL-G820 router back to the original factory default settings. Before we begin I want to explain the difference between a reset and a reboot. When you reboot something you are cycling the power to the unit. This is done by unplugging it, waiting a bit, and plugging it back in. A reset takes all the settings and returns them to factory defaults.
Warning: A reset like this one is going to erase every setting you have ever changed on this device. Take care when resetting a router, make a list of all the settings you may have changed in the router's life. Consider the following:
The router's main username and password are erased.
Internet name and password are reverted back to how they were from the factory.
If this is a DSL router you need to re-enter the ISP (Internet Service Provider) username and password. To find out what these are you'll need to call your ISP.
If you have changed anything else be sure to write it down before resetting this device. This could be anything from a IP address to a port forward.
Other Dlink DWL-G820 Guides
This is the reset router guide for the Dlink DWL-G820.We also have the following guides for the same router:
Reset the Dlink DWL-G820
Begin the reset by locating the reset button. For this model of D'link it can be found on the back panel. It should look similar to the image below.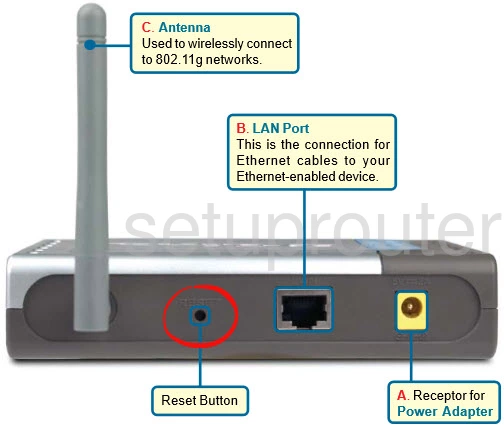 Now you should take a straightened paperclip and press down on the reset button for about 10 seconds. Make sure the router is on during the process. If you don't hold the reset button down you might not reset it but instead reboot it.
Please remember a reset like this is going to erase every single setting you have ever changed. To avoid this we recommend trying other methods of troubleshooting first.
Login to the Dlink DWL-G820
It is now time to login to the Dlink DWL-G820 router. Use the defaults found on the Dlink DWL-G820 Login Guide.
Tip: If these defaults didn't work it is possible you didn't hold the reset button down for long enough.
Change Your Password
The first thing we recommend you do after logging in is to change the default password. This password protects your router settings. If you need help or just a refresher on what makes a good password check out our Choosing a Strong Password guide.
Tip: One way to avoid losing this new password is to write it down on a piece of paper and sticking it to the bottom of the device.
Setup WiFi on the Dlink DWL-G820
Next you need to begin the reconfiguration process. Begin with the wireless settings. To help you with this I have created an easy to read guide titled How to Setup WiFi on the Dlink DWL-G820.
Dlink DWL-G820 Help
Be sure to check out our other Dlink DWL-G820 info that you might be interested in.
This is the reset router guide for the Dlink DWL-G820.We also have the following guides for the same router: