Have you been trying to login to the Huawei HG630b Spark router and been unsuccessful? It might be time to consider a reset. A reset is not a reboot. A reboot is a cycle in the power to the unit. A reset is a complete factory restore of all settings.
Warning: Resetting this router is a big step and should not be taken lightly. We suggest creating a list of all the possible settings you may of changed in the past. For example:
The router's main username and password.
The Wireless name and password.
The Internet Service Provider (ISP) username and password if this is a DSL router. Call your ISP for these details.
Have you changed any other settings like port forwarding or IP addresses?
Other Huawei HG630b Guides
This is the reset router guide for the Huawei HG630b Spark.We also have the following guides for the same router:
Reset the Huawei HG630b
Below is an image of the Huawei HG630b Spark router and I have circled the reset button in red.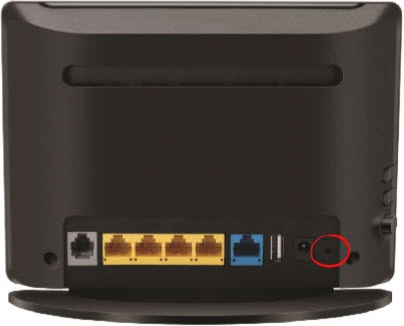 While the router is on take a bent paperclip or similar object and press the reset button for at least 8 seconds. This begins the reset process. If you don't hold the reset button down for long enough you end up only rebooting the router instead of resetting it.
Remember this erases all the settings you have ever changed. We strongly recommend trying other methods of troubleshooting before you reset the router.
Login to the Huawei HG630b
After the reset is complete you need to login using the default values. These can easily be found in our Login Guide for the Huawei HG630b Spark router.
Tip: If the defaults didn't work don't panic. You might not of held the reset button down for long enough.
Change Your Password
Next you need to change the default router password. If you need help coming up with a new password check out our Choosing a Strong Password guide.
Tip: Do you need a way to keep from losing your new password. One way is to write it down on a piece of paper and attach it to the bottom of the router for future reference.
Setup WiFi on the Huawei HG630b Spark
Time to setup the WiFi settings. This is very important to the security of your router. For a great guide on the topic check out our Huawei HG630b Spark WiFi Instructions.
Huawei HG630b Help
Be sure to check out our other Huawei HG630b info that you might be interested in.
This is the reset router guide for the Huawei HG630b Spark.We also have the following guides for the same router: