Before I begin this guide let's discuss the terms reset and reboot. To reboot a router means to cycle it's power. This is is done by turning the router off, waiting 30 seconds, then turning it back on again. This does solve some minor problems. To reset the router is taking all the settings and reverting them back to how they were from the factory. This is done if, for instance, you have lost your router's interface password. This guide will cover how to reset the Belkin F7D4401v1 router back to factory defaults.
Warning: Resetting the Belkin F7D4401v1 router is a serious step and should only be done after you have considered all the settings that will be changed back to the default settings. This includes:
The router's main interface username and password.
The Internet name and password are returned to factory defaults.
The ISP username and password are erased and need to be re-entered. Call your ISP for the details.
Have you made any other changes to your routers? These will all be erased. This includes IP address changes or even port forwards.
Other Belkin F7D4401 Guides
This is the reset router guide for the Belkin F7D4401 v1. We also have the following guides for the same router:
Reset the Belkin F7D4401
To begin the reset process for the Belkin F7D4401v1 router you need to know where the tiny recessed reset button is located. We have found it's location for you and circled it in the image below.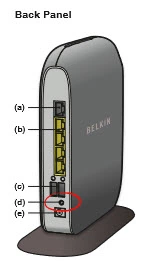 Now take the end of an unwound paperclip to press and hold the reset button for at least 10 seconds. If you just click this reset button it will not reset the device it will reboot it.
Remember this reset will erase everything you have done to your router in the past to personalize it. A reset should be your last resort in troubleshooting the problem.
Login to the Belkin F7D4401
Now that you have reset the Belkin F7D4401v1 router you should login to the router's user interface to make a few changes. To login to the router you need to know the default IP address, username, and password. We have these for you in our database and included them in the Belkin F7D4401v1 Login Guide.
Change Your Password
After a successful login to the Belkin F7D4401v1 router you should change that password. Use our Choosing a Strong Password guide for tips and ideas if you need to.
Tip: To login to the router's user interface again you need to know this password so don't lose it. If you don't have a spot already designated for passwords go ahead and write this one down on a sticky-note and attach it to the bottom of the router.
Setup WiFi on the Belkin F7D4401v1
Finally let's talk about your network security. It's easy to remember that this has been reset as well. A lot of router companies including Belkin like to leave the security disabled as the default. This is so it's easier for you to access your network the first time. The down side to this is that it is also extremely easy for others to access your network as well. Change your network's security to WPA2 and create a strong password to go along with it. I have written a guide for network security and how to change it. Take a look at the guide titled How to Setup WiFi on the Belkin F7D4401v1 router.
Belkin F7D4401 Help
Be sure to check out our other Belkin F7D4401 info that you might be interested in.
This is the reset router guide for the Belkin F7D4401 v1. We also have the following guides for the same router: