On this page we show you how to reset the Cisco EA2700 router back to it's original factory defaults. It's important that you know the difference between a reset and reboot. A reboot is a power cycle to the device. A router reset is taking all your settings and reverting them all to factory defaults.
Warning: Resetting this router is a big step in troubleshooting. Please consider the consequences of this Cisco EA2700 router reset. Take the following into consideration:
The router setup username and password are reverted to factory defaults.
The Internet name and password are returned to factory defaults.
The ISP username and password need to be re-entered if you use a DSL router. Call your Internet Service Provider for more information.
If you have made any other changes to the router you need to write those down to reconfigure them afterwards.
Other Cisco EA2700 Guides
This is the reset router guide for the Cisco EA2700.We also have the following guides for the same router:
Reset the Cisco EA2700
You now need to find the reset button. On this router the reset button is located on the back panel. Just look at the image below for reference.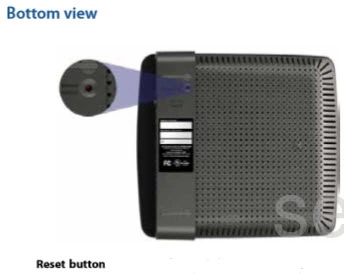 As you can see this button is tiny and recessed. You can use an unwound paperclip or pin to press and hold the reset button for about 10 seconds. If you don't hold this button for the correct amount of time you end up with a reboot instead of a reset.
Remember this reset erases everything you have ever changed on this router. If you want to try and avoid having to reconfigure your router you should definitely try other troubleshooting methods.
Login to the Cisco EA2700
Congratulations you have reset your router. Now you need to reconfigure it and to do that you need to login to it using the correct default username and password. We have found these for you and they are included in the Login Guide for the Cisco EA2700 router.
Change Your Password
It's now a good idea to change the password. These default passwords are meant to be easy to guess which in turn makes them horrible passwords. Change this to a stronger password. If you need ideas check out our Choosing a Strong Password guide.
Tip: Don't lose this password. If you keep this router in your home it's okay to write it down on a sticky note and attach it to the bottom of the device for future reference.
Setup WiFi on the Cisco EA2700
The wireless settings also need to be checked. This includes the wireless password, and security method. We recommend using WPA2 along with a strong password. If you need help with this check out our How to Setup WiFi on the Cisco EA2700 guide.
Cisco EA2700 Help
Be sure to check out our other Cisco EA2700 info that you might be interested in.
This is the reset router guide for the Cisco EA2700.We also have the following guides for the same router: