We will be going over how to reset the Alcatel-Lucent I-240W-Q router in this guide. There is a difference between resetting the guide and rebooting the guide. Rebooting the guide is referring to cycling the power by turning the router off and back on again. Resetting erases all configurations you have made to your router.
Warning: When you reset your Alcatel-Lucent I-240W-Q router you need to be aware of changes that happen. Take the following into consideration:
The router's main username and password are reset to factory defaults.
The Wireless SSID/network name and password are reset.
If you use a DSL connection you need to enter your ISP username and password in order to continue using Internet. Call your ISP for further details.
All of your personal configurations are erased and need to be re-entered. This can include port forwards or IP addresses.
Other Alcatel-Lucent I-240W-Q Guides
This is the reset router guide for the Alcatel-Lucent I-240W-Q. We also have the following guides for the same router:
Reset the Alcatel-Lucent I-240W-Q
With the router turned on look at the back panel.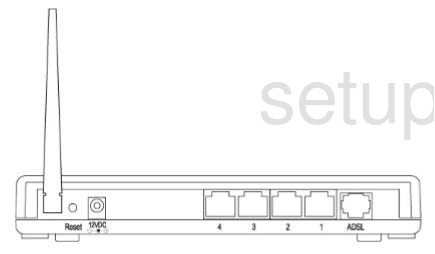 Using the tip of a pin or unfolded paperclip press and hold the reset button for about 10 seconds.
Remember this process is going to erase everything you have done to your router. So make sure you have tried other ways of solving your problem before continuing.
Login to the Alcatel-Lucent I-240W-Q
After the reset process is complete you need to login using the Alcatel-Lucent I-240W-Q router's default username and password. This is included in our Login Guide for that router.
Change Your Password
Once you've logged into the Alcatel-Lucent I-240W-Q router, change the default password to the router. This can be just about anything you like. If you follow a couple simple rules you can have a very strong password that is fairly easy to remember. Take a look at this Choosing a Strong Password guide for ideas.
Tip: Write this new password down on a piece of paper and stick it to the bottom of the router for next time.
Setup WiFi on the Alcatel-Lucent I-240W-Q
The last setting we recommend changing right away is the wireless security of your network. Some router companies like to leave the security open or disabled as the default. This needs to be changed to WPA2-PSK. If you need help doing this check out our How to Setup WiFi on the Alcatel-Lucent I-240W-Q guide.
Alcatel-Lucent I-240W-Q Help
Be sure to check out our other Alcatel-Lucent I-240W-Q info that you might be interested in.
This is the reset router guide for the Alcatel-Lucent I-240W-Q. We also have the following guides for the same router: