This guide will discuss how to reset the Asus RT-N66U router. A lot of you may be confused about the difference between resetting and rebooting. Unfortunately these two words are sometimes used interchangeably. Rebooting a router consists of cycling it's power by turning it off or unplugging it for a time and then turning it back on or plugging it back in. This will solve some lesser problems you may be having with your router. A reset is different. A reset will erase all your configurations you have ever made to your router and revert the device to factory settings.
Warning: Resetting your router can cause unforeseen problems if you don't know what to expect. Please consider the following list before you decide to reset your Asus RT-N66U router.
The router interface username and password are reverted to factory settings.
All WiFi information such as SSID, password, and authentication method are erased.
If you use DSL you are required to re-enter the ISP username and password to reconnect to the Internet. If you don't have this information you need to contact your ISP.
All configurations you have ever made are erased. This could include anything but some common ones are port forwards, IP address changes, or even parental controls.
Other Asus RT-N66U Guides
This is the reset router guide for the Asus RT-N66U. We also have the following guides for the same router:
Reset the Asus RT-N66U
So you have decided that a reset to the Asus RT-N66U router is what needs to be done. First off, keep your router on this entire time. Unplugging or turning the device could cause permanent damage.
Once you have made sure your device is on, locate the reset button. It will be on the back panel. We have circled it's location for you in the image below.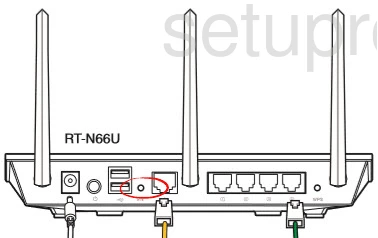 Using the tip of a sharpened pencil or unwound paperclip press and hold the reset button for around 10 seconds.
Remember this erases every configuration you have ever done to your router. It will all need to be re-entered. Make sure to try other troubleshooting methods before deciding to reset your device.
Login to the Asus RT-N66U
Now that you have finished resetting the Asus RT-N66U router you need to login using the default username and password from the factory. These can normally be found in the user manual or on the device itself. We have found them for you and added them to our Login Guide for the Asus RT-N66U router.
Change Your Password
Once you have successfully logged in, change your password. Never leave a password as it's default. If creating new passwords is hard, we have a guide full of hints and ideas. Check it out here.
Tip: Write this new password down on a piece of paper and attach it to the bottom of the router for future reference.
Setup WiFi on the Asus RT-N66U
The last setting we will discuss here is the security settings for your WiFi. We strongly recommend making sure you are using the most up-to-date security available, WPA2-Personal. If you need help doing this we have a guide titled How to Setup WiFi on the Asus RT-N66U for you to follow.
Asus RT-N66U Help
Be sure to check out our other Asus RT-N66U info that you might be interested in.
This is the reset router guide for the Asus RT-N66U. We also have the following guides for the same router: