This guide will discuss how to reset the Belkin F5D7234-4v1 router back to original factory defaults. There seems to be a lot of confusion between the terms reset and reboot. When we refer to a reboot we are talking about cycling the power by turning it off and back on again. A router reset is where you take all the settings and revert them back to original factory defaults.
Warning: This affects every setting on your router. If you have changed the smallest thing on your router it will change it back to how it was from the factory. We recommend making a list of all the settings you know will be changed. Consider the following:
The router's main username and password are reverted to factory defaults.
The WiFi information is reset to defaults. This includes the SSID, password, and security method.
The ISP (Internet Service Provider) needs to be re-entered if you use DSL. You need to call your ISP for these details.
Any other settings you have changed such as port forwards or IP addresses are all erased.
Other Belkin F5D7234-4 Guides
This is the reset router guide for the Belkin F5D7234-4 v1. We also have the following guides for the same router:
Reset the Belkin F5D7234-4
The first step in any factory reset is to locate the tiny recessed button labeled reset. Typically this is found on the back or side panels of the router. It also may be located on the underside of the router. The user manual did not give a clear idea of where it is. We have circled the placement of a typical reset button in the image below.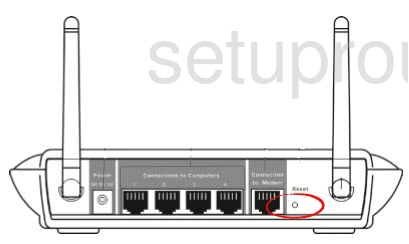 Due to the small size of the reset button you need to find a sharp object such as an unwound paperclip to press and hold the reset button for at least 10 seconds. If you hold it down for a shorter amount of time it may only reboot the router leaving your settings as they are. It is also important that your router be on for this process. Do not unplug or turn off the router during the reset process as that could potentially cause damage to the router.
Don't forget that this WILL erase every setting you have ever changed on this router. It is highly recommended that you only attempt a factory reset after you have exhausted other troubleshooting methods.
Login to the Belkin F5D7234-4
Now that you have finished resetting the router you need to login to the routers GUI or Graphical User Interface to reconfigure the settings that have been changed. To login you are going to need to use the original factory default IP address, username, and password. These are normally found in the user manual of the router or on the device itself. We have found this information for you and included it in our Belkin F5D7234-4v1 Login Guide.
Change Your Password
The next step should be to change that default password to something you create. For help on this topic check out our Choosing a Strong Password guide.
Tip: Don't lose this password. If your router is in a secure location, such as a residential home, it's fine to write this password down on a piece of paper and attach it to the bottom of the router for next time.
Setup WiFi on the Belkin F5D7234-4v1
The last thing we will discuss in this guide are the WiFi settings. These have been reset and need to be checked and configured to how you want them. Some router companies like to leave the router security open as the default option. This is a very insecure setting. It means you have no security or encryption for your network. Change this as soon as you can. We recommend setting the security to WPA2-PSK. For a full set of instructions on how to make your network secure check out our guide titled How to Setup WiFi on the Belkin F5D7234-4v1.
Belkin F5D7234-4 Help
Be sure to check out our other Belkin F5D7234-4 info that you might be interested in.
This is the reset router guide for the Belkin F5D7234-4 v1. We also have the following guides for the same router: