In this guide we will explain how to reset the Belkin F5D7234-4v4 router back to it's original factory defaults. There is some confusion about the difference between the terms reset and reboot. Rebooting a router is simply restarting the computer. Resetting a router is taking all the settings and returning them to factory defaults.
Warning: This erases all settings and reverts them back to how they were from the factory. We recommend creating a list of settings you know will be changed. This includes the following:
The router's interface username and password.
The WiFi SSID, password, and security method.
If you use DSL you need to re-enter the ISP username and password. To get this info. you need to call your ISP.
Any other settings such as port forwards are erased.
Other Belkin F5D7234-4 Guides
This is the reset router guide for the Belkin F5D7234-4 v4. We also have the following guides for the same router:
Reset the Belkin F5D7234-4
To begin the reset process you first need to know where the reset button is on the router itself. This button is normally very small and recessed to avoid accidental reset. We have circled the location of where we think the reset button is located.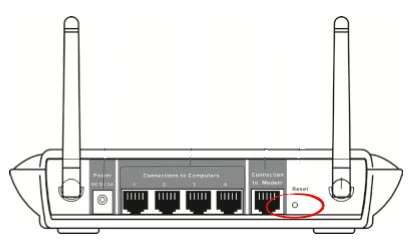 Take a paperclip and partially unwind it. Use this unwound paperclip to press and hold the reset button for about 10 seconds. Holding down this button for less time will only reboot the router instead of resetting it.
Remember this erases every setting you have ever changed. It is recommended that you try other troubleshooting methods before you continue with a reset.
Login to the Belkin F5D7234-4
Once you have reset the router you need to login to it using the proper default username and password. We have found these for you and included them in our Login Guide for the Belkin F5D7234-4v4.
Change Your Password
Now it's a good idea to change your password. If you need further help with this check out our guide on Choosing a Strong Password.
Tip: It's important that you don't lose this password. If your router is in a secure location, you can write this password down on a sticky-note and attach it to the bottom of the router.
Setup WiFi on the Belkin F5D7234-4v4
Finally let's discuss the WiFi settings. These settings include the SSID, password, and security method. Some router companies like to leave the security open as the default. This means your security is open to anyone who wants to use it and there is no encryption in place. Change your security to WPA2-PSK. For a full set of instructions check out our guide titled How to Setup WiFi on the Belkin F5D7234-4v4.
Belkin F5D7234-4 Help
Be sure to check out our other Belkin F5D7234-4 info that you might be interested in.
This is the reset router guide for the Belkin F5D7234-4 v4. We also have the following guides for the same router: