Before we start this reset guide it's important to know the difference between resetting a router and rebooting a router. A reboot is simply cycling the power by turning the router off and back on again. This will solve some minor router problems. A router reset is taking all the settings and returning them to how they were straight from the factory.
Warning: Resetting this router can cause more problems for you if you are unaware of what settings will be changed. Please consider the following before you continue:
The router username and password are returned to factory defaults.
The Internet name and password are returned to factory defaults as well.
If you use DSL you need to re-enter the ISP username and password. This information can be obtained by contacting your Internet Service Provider.
Any other settings you have changed will be erased. Did you have any port forwards set up or firewall settings? These all need to be re-entered.
Other Belkin F9K1002 Guides
This is the reset router guide for the Belkin F9K1002 v3. We also have the following guides for the same router:
Reset the Belkin F9K1002
Before any reset can begin you need to know where this tiny little button is located. We have circled it's location for you in the image below for your convenience.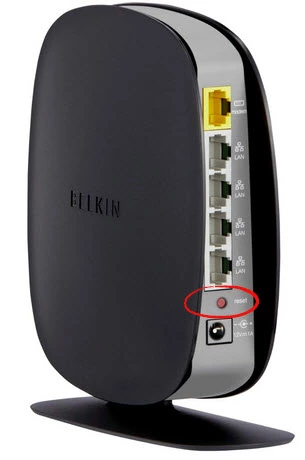 Now, take an unwound paperclip or pin and press down on the reset button for at least 10 seconds. If you only press and release the button it only reboots the system instead or resetting it. This may be where most of the confusion between a reset and reboot comes from.
Remember resetting this Belkin F9K1002v3 router will erase every setting you have ever changed on this router. It's a good idea to try other methods of fixing your problem before resetting it.
Login to the Belkin F9K1002
Once you have reset the Belkin F9K1002v3 router you need to login to it using the appropriate IP address, username and password. We have found these for you and included them in our Belkin F9K1002v3 Login Guide.
Change Your Password
After successfully logging into the Belkin F9K1002v3 router you need to change the default password. This is the password you use to access your router's interface. If you need help coming up with a strong password check out our guide by clicking this link.
Tip: It's important to not lose this password. As long as your router is in a secure location, like your home, go ahead and write it down on a piece of paper and attach it to the bottom of the router.
Setup WiFi on the Belkin F9K1002v3
Finally, let's discuss the WiFi settings. These include the SSID or network name, password, and network security. Make sure your security is set to WPA2 and use a strong Internet password. If you would like a guide on the topic check out our guide titled How to Setup WiFi on the Belkin F9K1002v3.
Belkin F9K1002 Help
Be sure to check out our other Belkin F9K1002 info that you might be interested in.
This is the reset router guide for the Belkin F9K1002 v3. We also have the following guides for the same router: