First let's discuss the difference between resetting a router and rebooting a router. To reboot a router is to simply cycle the power by turning the router off and back on again. This does some some minor router issues. To reset this router is to take all the settings and return them to how they were from the factory. In this guide we will show you how to reset the Belkin F9K1002v4 router back to it's original factory defaults.
Warning: Resetting this router can cause more problems for you if you are unaware of what settings get changed. We suggest creating a list of all the settings you know about that will be changed. We have started the list for you:
The router's interface username and password.
The Internet name and password.
The network security method.
If you use DSL, the ISP username and password.
Any other settings you changed in the past. This could include things like port forwards or IP address changes.
Other Belkin F9K1002 Guides
This is the reset router guide for the Belkin F9K1002 v4. We also have the following guides for the same router:
Reset the Belkin F9K1002
Before we start resetting the Belkin F9K1002v4 router you should find the tiny recessed reset button. It's normally located on the back panel or side panel of the device. We have circled it's location for you in the image below.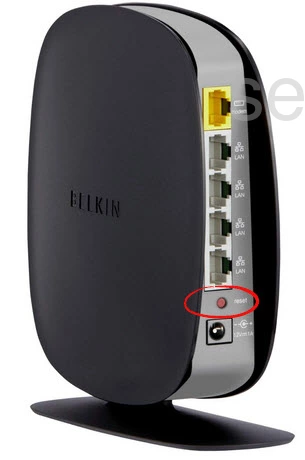 Now take a small object like an unwound paperclip or pin to press and hold down the reset button for a minimum of 10 seconds. If you don't hold the button down for a full ten seconds you may only reboot the router instead of resetting it.
Remember this reset is going to erase all the settings you have ever changed on your device. It's a good idea to try other methods of troubleshooting before you reset.
Login to the Belkin F9K1002
After you finish resetting the Belkin F9K1002v4 router you should login to it using the proper default IP address, username, and password. We have found these for you and included them in our login guide for this router. Click this link to take you to the proper page.
Change Your Password
The next step is to change the default password you use to access your router. A lot of router manufacturers, including Belkin, like to leave the password blank as default. This make it easier for you to access your router for the first time. Unfortunately it also makes it easier for everyone to access your router. Change the router password to something you created. Use this Choosing a Strong Password guide to help you if you need it.
Tip: To avoid having to reset the router again, don't lose this password. If you have your router in a fairly secure location, it's okay to write it down on a piece of paper and attach it to the bottom of the device.
Setup WiFi on the Belkin F9K1002v4
This last section is about the WiFi settings. It's easy to forget the WiFi settings. Belkin and other router manufacturers like to leave the security disabled as default. Again this helps you access the Internet easier. This also makes it that easy for a neighbor or passerby to access your network. Change your security to WPA2 and use a strong Internet password. We have a guide covering all this titled How to Setup WiFi on the Belkin F9K1002v4.
Belkin F9K1002 Help
Be sure to check out our other Belkin F9K1002 info that you might be interested in.
This is the reset router guide for the Belkin F9K1002 v4. We also have the following guides for the same router: