If you have been trying to login to the Huawei B593s-22v2 router and been unable to do so, it might be time to consider a reset.
A reset is not the same thing as a reboot. When you reboot a router you cycle the power to the unit. When you reset a router you take all the settings and return them all to factory defaults.
Warning: This reset erases every setting you have ever changed on your router. Some of the settings that will be returned to factory settings are:
The router's main username and password.
All the WiFi information such as SSID and Internet password.
If this is a DSL router you need to re-enter the ISP (Internet Service Provider) username and password. Call your local ISP for the details.
Have you made any other changes? Have you forwarded a port or changed any IP addresses? If so these are erased and need to be reconfigured as well.
Other Huawei B593s-22 Guides
This is the reset router guide for the Huawei B593s-22 V200R001B180D20SP00C00.We also have the following guides for the same router:
Reset the Huawei B593s-22
Looking at the image below you can see the reset button on the side panel. I have circled it for you in red.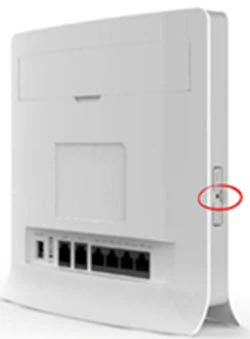 While the router is on, take a bent paperclip or similar object and press down on the reset button for about 10 seconds. This begins the reset process. If you don't hold this reset button/pinhole down for long enough you end up only rebooting the device instead of resetting it like you wanted.
It's important to remember that a reset erases every setting you have ever changed in your router's interface. We advise you to try other troubleshooting methods first.
Login to the Huawei B593s-22
Following that you'll need to log into your Huawei B593s-22v2 router. This is done by using the factory default username and password listed for your use in our Login Guide.
Tip: Defaults not logging you in? Try holding the reset button for longer.
Change Your Password
Now that you've successfully reset and logged into your router we suggest setting a new password for it. This can be whatever you like, however keep in mind that a strong password is 14-20 characters in length and includes no personal information. For more help be sure to take a look through our Choosing a Strong Password Guide.
Tip: Avoid losing your new password by writing it on a slip of paper and attaching it to the bottom of your router.
Setup WiFi on the Huawei B593s-22v2
Don't forget to begin re-configuring the Huawei B593s-22v2 router. We have the Huawei B593s-22v2 WiFi Instructions available along with other great guide for you to use.
Huawei B593s-22 Help
Be sure to check out our other Huawei B593s-22 info that you might be interested in.
This is the reset router guide for the Huawei B593s-22 V200R001B180D20SP00C00.We also have the following guides for the same router: